September 20, 2017
(Stavanger 20th September, 2017) — Tampnet, the leading provider of high-capacity, low- latency telecommunication infrastructure and services for the offshore Oil&Gas and maritime industry, announced today an increase of more than 30% on their offshore 4G LTE coverage. This aggressive continuous build-out further enables the Oil&Gas industry to fulfil their goals of increased safety and efficiency, as well as enabling the ongoing important digitalization of the industry.
The coverage increase consists of no less than eight new 4G LTE base stations, most of which are on the UK sector of the North Sea. Managing Director – North Sea, Per Atle Sørensen says; "With increased coverage comes additional customers, and the technology continues to perform according to, if not beyond our expectations. A recent example with an FPSO for one of the major operators shows we can deliver a non-contended, symmetrical 10Mb Ethernet connection at a distance of 54km. The omni antenna deals with both the rotation and pitch & roll of the vessel and brings the round trip delay down from 600ms (VSAT) to 40ms."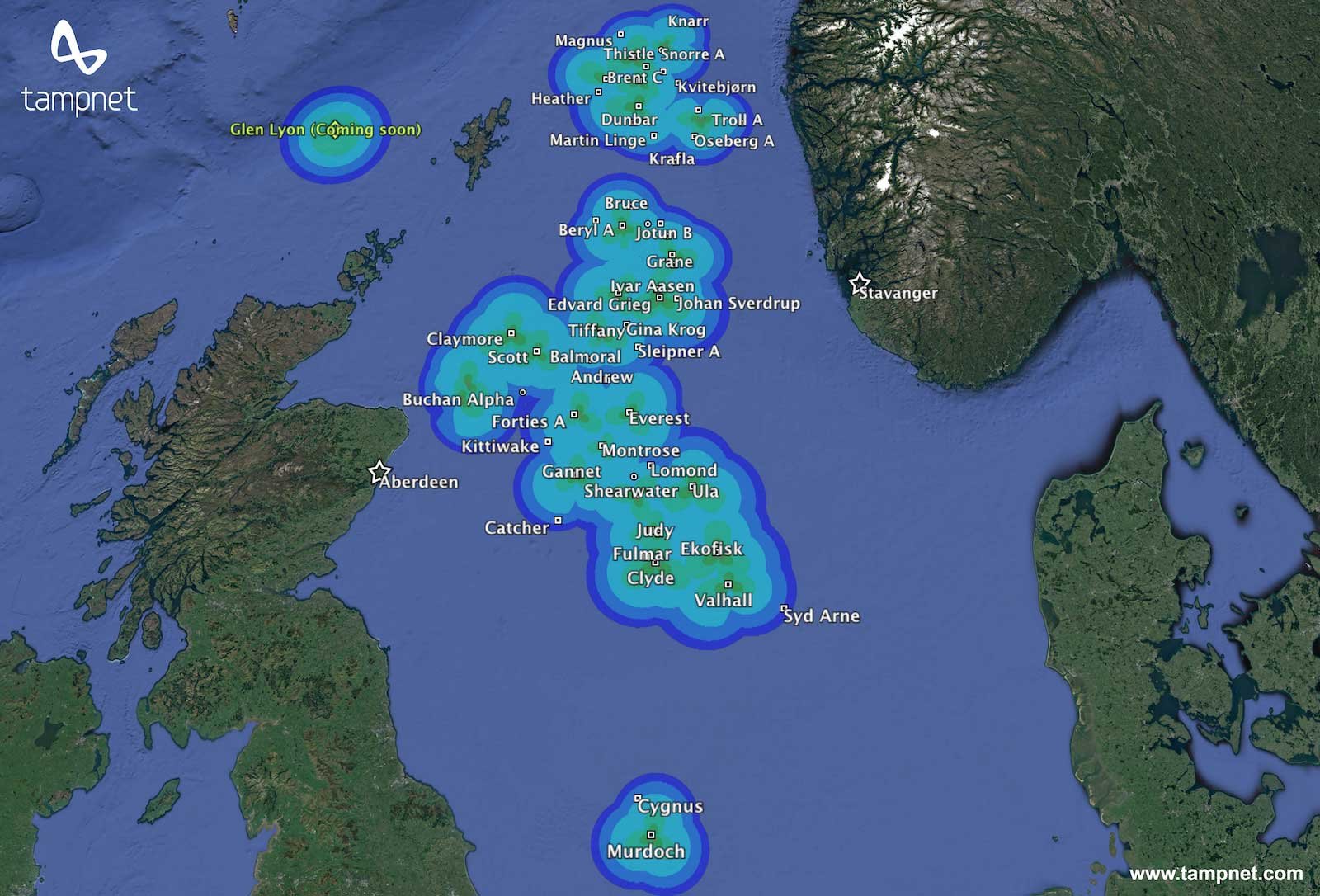 In addition to adding marine coverage to rigs and vessels in key areas, nearly all base stations are installed such that they provide internal coverage on the host platform. This enables the platforms for the future, making them capable of utilizing more efficient operational work methods such as; remote monitoring and maintenance, remote mobility workers, Machine-to-Machine communication, predictive maintenance sensors, big data analysis and other digitalization processes.
The expansion further strengthens Tampnet's position as the global leader in delivering high- capacity and low latency communication in the offshore environment. Remaining at the forefront of the industry, Tampnet's ever expanding subsea fibre based and 4G LTE supported network has enabled an entire industry to take significant leaps into smarter work processes, safer operations and more efficient production.
Tampnet CEO, Per Helge Svensson comments; "It has been part of our strategy from day one to build a robust and future proof network, capable of taking on and enabling the future needs in the industry. Our network has developed tremendously during the last few years, and I would dare to say there are no limitations as to what this network can be utilized for. The infrastructure and coverage is there, now it is up to the oil companies, service companies and the maritime sector to take the possibilities in to use, and to digitalize the industry."

About Tampnet:
Tampnet operates the largest offshore high capacity communication network in the world and serves more than 240 Oil&Gas platforms, FPSO's and exploration rigs in the Gulf of Mexico and the North Sea. In total, Tampnet owns and operates a redundant offshore infrastructure network based on 2,500km of subsea fibre optic cable in the North Sea, complemented with a large number of high-capacity, carrier grade radio links and an extensive 4G LTE network.
For more information on digitalization offshore, please contact:
Per Atle Sørensen, Managing Director North Sea
Phone: +47 916 43 043 Email: pas@tampnet.com
Per Helge Svensson, Chief Executive Officer
Mobile: +47 905 29 868 Email: phs@tampnet.com