Published by: Tampnet
Published on:
Tampnet Delivers Strong Cellular Reception to Lower Decks of Ships in the North Sea Using Cel-Fi QUATRA by Nextivity
STAVANGER, Norway – July 12, 2022 – Tampnet, the world's largest offshore cellular carrier, announced today that it is now providing strong internal cellular connectivity to offshore support vessels and ships during their voyages in the North Sea using Cel-fi's range of signal amplifier products, including Nextivity's Cel-Fi QUATRA active DAS hybrid.
Tampnet provides offshore cellular service covering an area of 250,000 square kilometers in the North Sea, from the Dutch coast and up to the UK and Norwegian territories. Furthermore, Tampnet offers this service in the Gulf of Mexico, providing an additional 250,000km2 across this region.
Tampnet's extensive subsea fibre network supports their 4G/LTE coverage through strategic placement of base stations on fixed offshore production facilities and windfarms. Through this extended network, Tampnet is providing reliable coverage to connect people and operational facilities in these remote locations.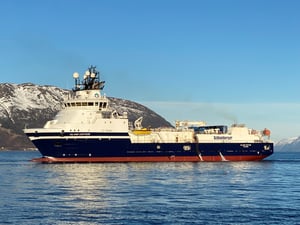 Reliable cellular signal is needed on vessels for operations and crew welfare, but the steel and glass construction of the vessels can obstruct the signal's penetration to the deeper zones of the structure. Tampnet has extensive experience with challenging applications, and have found that this particular challenge can be overcome through installation of Cel-Fi systems such as the Cel-Fi QUATRA. The system receives the Tampnet signal through an antenna mounted on the mast of the vessel or other suitable location above the bridge, and then distributes the signal over cable to intelligent internal antennae that have been positioned throughout the vessel, optimizing internal signal coverage.
"When a vessel moves out of the range of a land carrier and into Tampnet's service area, the onboard crew can access Tampnet's service on any device on the ship that has an eSim-based user interface or physical sim card from one of our active roaming partners, such as GigSky and KPN," says Martin Myraker, head of roaming and eSIM business at Tampnet.
"Before we started deploying Cel-Fi systems, such as the Cel-Fi QUATRA, often there will be a fairly good signal on the bridge once the vessel is close to a base station, however, as one moves deeper into the vessel, the steel walls can obstruct mobile signals. This is particularly relevant in areas such as cabins, where crew members will often go to relax or talk to family and friends without being disturbed by others. From a crew welfare perspective, the ability to detach from the work environment during down-time is key," explains Myraker.
"From an operational standpoint, a strong cellular signal is necessary to conduct contracted assignments efficiently, run client specific applications, live data review, sea-to-shore collaboration and video conferencing," says Myraker. "With Cel-Fi, we can deliver the strong signal, even in the lower decks. needed on the lower decks, opening up a myriad of opportunities for improved operational efficiency, enabling high quality, low latency communications for our clients."
Tampnet's engineers are experienced in designing effective solutions using the Cel-Fi range of products, and will select and create a DIY kit with the appropriate Cel-Fi system, such as Cel-Fi QUATRA or Cel-Fi GO. Tampnet's engineers collaborate with the vessel's electricians or communications technicians to ensure seamless installation, integration and commissioning. Through this method, systems can be installed while the vessel is at sea, without interrupting the vessel's primary operations, and saving on cost of mobilizing specialist personnel.
Following the most recent installation, Karl Christiansen, an electrician deployed to the Island Centurion DeepSTIM Well Simulation vessel in the North Sea, stated, "I have sailed and worked on Ekofisk since 2009. I am willing to go so far as to call this a real game changer. The LTE signal inside the vessel now is fantastic, the coverage is very strong, not only where it's needed for operations, but throughout the vessel's communal spaces and private quarters."
Odd Arild Brandal, Master at Island Offshore commented, "On receipt of the equipment from Tampnet, it was easy and quick to mount, virtually a plug-and-play solution. The coverage at the field is supreme. Now we have 4G coverage inside the accommodation at all levels. It's like a new era started and the crew are all happy with this new addition to their welfare."
"Tampnet, the largest offshore high-capacity communications network in the world, provides exceptional service to crews who depend on cellular for operations and connectivity with their family and friends while they are sailing," says SVERRE PLATOU, Cel-Fi brand manager at Tura Scandinavia, the regional distributor. "Tampnet has proven it is as fast and cost-effective to deploy Cel-Fi QUATRA to resolve poor cellular reception throughout a vessel as it has been with installation of the system onshore in enterprise buildings across Scandinavia."
Cel-Fi QUATRA is an all-digital cellular coverage solution built on award-winning Cel-Fi technology – Nextivity's fourth generation Intelliboost chipset – and is the only product in its class on the market today that supports up to 100dB of gain. QUATRA is approved by more than 200 carriers in over 100 countries for use on their networks.
About Tampnet
Tampnet owns and operates the largest offshore high capacity communication network in the world and serves more than 350 oil and gas platforms, FPSO's, exploration rigs and vessels in the Gulf of Mexico and the North Sea, totalling over 4,500km of subsea fibre optic cable which is complemented by numerous high-capacity, carrier grade radio links and an extensive 4G LTE network with a coverage area of over 500,000km2. Recently expanding the network, Tampnet is now providing connectivity to offshore wind farms and added Trinidad and Tobago and Canada to its portfolio of serviced regions.
Contact:
Martin Myraker
Head of Roaming
Tampnet AS
mmy@tampnet.com
+47 9077 5479
About Nextivity:
Nextivity Inc. makes the world's most intelligent, powerful, and easy-to-use cellular and public safety coverage solutions that advance connectivity and allow people and businesses to achieve their most ambitious goals. Nextivity solutions include the popular Cel-Fi product line, which are powered by proprietary IntelliBoost chips. IntelliBoost uses digital signal-processing to enhance cellular performance in real-time and deliver unbeatable coverage for organizations, homes, and vehicles in over 100 countries. All Nextivity solutions are unconditionally network safe and used by over 200 mobile network operators globally. Nextivity is headquartered in San Diego, CA, USA. Visit us at cel-fi.com and follow us on LinkedIn.
Contact:
Michael Grandinetti
Marketing Content Manager
CEL-FI, by NEXTIVITY INC.
mgrandinetti@nextivityinc.com