Published by: Tampnet
Published on:
This entirely new network path supports the increasing digital infrastructure deployments in the Nordic region, further extending routes through to London via Amsterdam, providing unparalleled connectivity from Stockholm.
Stavanger, Norway – September 19th, 2022 - Tampnet Carrier, a leading provider of high capacity and latency-critical connectivity between the Nordics and Europe, announces its new Stockholm-Copenhagen-Amsterdam route. Featuring a unique and latency-sensitive connection from Stockholm to Amsterdam, it provides diversity and redundancy to data centre customers throughout Europe and the Nordics with increased bandwidth of up to 10 Terabits capacity available. This crucial route is now ready for service, enabling global and regional telecommunication carriers, hyperscalers, financial firms, gaming and content providers with a new latency-sensitive solution for their mission-critical operations, with interconnectivity to key data centres and interchanges throughout Stockholm, Copenhagen, Amsterdam and extending to London.
Tampnet Carrier's Stockholm-Copenhagen-Amsterdam route complements Tampnet's existing network and was built to combat growing network congestion points as the Nordics become an even more attractive market for digital infrastructure deployments. With more data centre deployments planned in the Nordic region, alternative and diverse network routes with scalable bandwidth solutions are imperative.
Luke Smith, Lead Industry Expert at datacenterHawk shared their analysis findings which show that of the 180MW of commissioned data centre power between the four major cities of Copenhagen, Helsinki, Oslo and Stockholm, 18MWs was absorbed in the last 12 months, with another 40 MW under construction. The increased digital infrastructure deployments in the Nordic region requires an express route that reduces latency and avoids congested, legacy network routes currently offered. Tampnet's new route provides a fully redundant and highly efficient solution, improving latency and performance between Stockholm, Amsterdam, and London.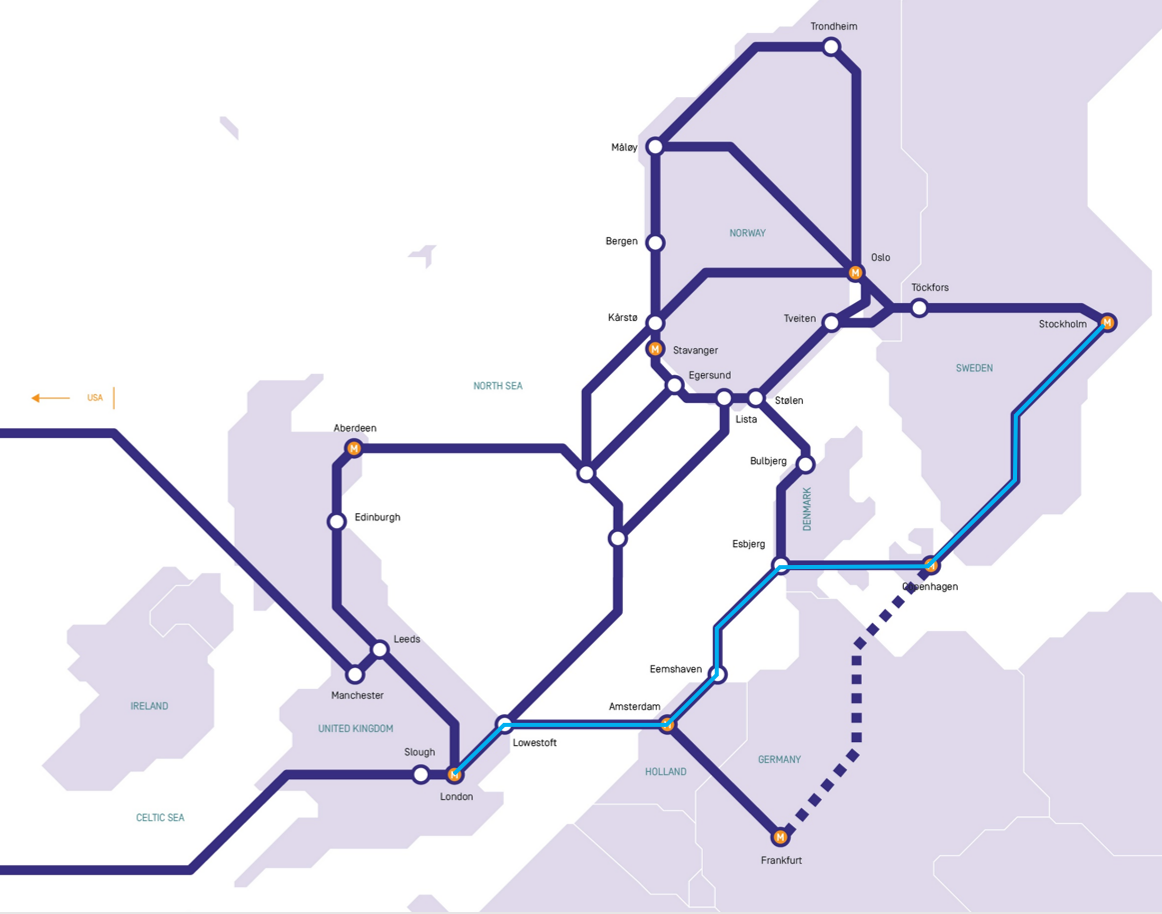 "Tampnet Carrier's STO-CPH-AMS route offers a variety of services including Ethernet, Wavelengths and Internet Transit capabilities. The system is designed for up to 10 Terabits of capacity with services offered from 1Gbps up to 100Gbps," adds Peter Hartlow, Sales Director of Tampnet Carrier.
"We can now provide our customers with an important alternative route out of Stockholm, designed and constructed unlike any existing mainstream routes. Tampnet Carrier continues to invest in high-value connectivity options to serve the data center, hyperscale, and enterprise customers throughout Europe and the Nordic region."

- Peter Hartlow, Sales Director, Tampnet Carrier
The new network offers competitive latency speeds across each leg. The Stockholm-Copenhagen portion offers 8.16 ms RTD, the Stockholm-Amsterdam portion provides 17.22 ms RTD and Stockholm-London portion provides 22.1 ms RTD.
Hartlow continues, "As a leading provider connecting the Nordics to Europe, we are creating a fast-lane for data to and from the Nordics. As a matter of fact, this third fundamental and unique route provides numerous advantages for data center developments throughout the region as well."
Tampnet Carrier's STO-CPH-AMS is now ready for service providing latency-sensitive connectivity for critical business operations.
About Tampnet Carrier:
Tampnet Carrier, a subsidiary of Tampnet, an offshore network provider operating since 2001, is headquartered in Stavanger, Norway. Tampnet Carrier solutions are delivered based on the company's foundational tenets: availability, quality, and security.
Tampnet Carrier's unique network routes pass through eight countries, connecting over 40 core data centres across 12 markets throughout Europe and the United States. The company's dual path capability between Norway and Europe is its key differentiator, providing diverse routing through Great Britain and via Sweden and Denmark. The company's high-speed terrestrial and subsea network between Norway and Europe enables low latency, highly reliable and secure connectivity solutions for the most discerning network customers.
For more information about Tampnet Carrier's services, please contact:
Peter Hartlow
Sales Director
Tampnet Carrier
Tel: +46 708 431 054
Email: peter.hartlow@tampnet.com
Media Contact for Tampnet Carrier:
iMiller Public Relations
Tel: +1.866.307.2510
Email: pr@imillerpr.com