Published by: Tampnet
Published on:
January 31, 2019
Tampnet has in cooperation with Telia and CGI, introduced the Narrowband-IoT technology in the North Sea. The technology is tailored for Internet of Things and the Wintershall operated Brage platform is the world's first oil & gas platform with NB-IoT coverage enabling smarter, safer and more cost-effective solutions.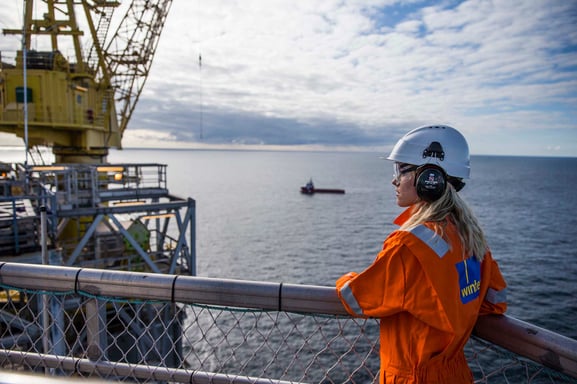 NB-IoT significantly improves the power consumption of user devices, system capacity and spectrum efficiency, especially in deep coverage scenarios. NB-IoT uses a subset of the LTE standard and will be deployed together with the existing Tampnet LTE network in the North Sea and Gulf of Mexico.
Sensors, analysis and visualization
Wintershall Norway has made the Brage platform available for this pilot project where Tampnet, Telia, and CGI are testing the IoT technology to discover all possible areas of use for the industrial Internet of Things in an offshore environment. Tampnet and Telia have deployed sensors from 7Sense on the platform and CGI have supplied a tool for analysis and data storage and visualization. This sensor information can among other things be used to monitor that the noise level in the accommodation area is kept within the level set by Norwegian authorities, that the air quality is sufficiently good and that energy consumption on Brage is optimal. The pilot project will be running from December 20th 2018 until June 2019 and during the project the partners will consider new areas of use of the technology.
Efficient decision making and operations offshore
"It is inspiring to cooperate with such a future oriented energy company as Wintershall Norway, a company that really sees the value of digitalization and explores new accessible technology to improve work processes, increase the staff welfare and platform safety", says Tampnet CEO, Per Helge Svensson.
"To our knowledge the Brage platform is the first platform in the world to deploy this new technology", Svensson explains.
Tablets, smartphones, sensors, machines and other equipment offshore can now be connected to a super- fast internet and offers endless possibilities for efficient decision-making and operations for our offshore customers.
Tampnet is now deploying this technology to achieve full coverage in the Norwegian and British sectors of the North Sea in the first half of 2019, and the Danish and Dutch sectors will follow soon after.