Published by: Tampnet
Published on:
March 28, 2017
Tampnet announced today that the roll out of 4G/LTE base stations in the Gulf of Mexico (GoM) is progressing well. This means the company has by now achieved 25% of their planned, ubiquitous 4G LTE coverage for the Gulf. Inside of 16-17 months, Tampnet will have 60+ base stations operational, covering nearly 96,526 square miles and 98% of all manned offshore assets in the GoM with 4G LTE service. This includes the deepwater region, as well as significant overlapping coverage for increased redundancy.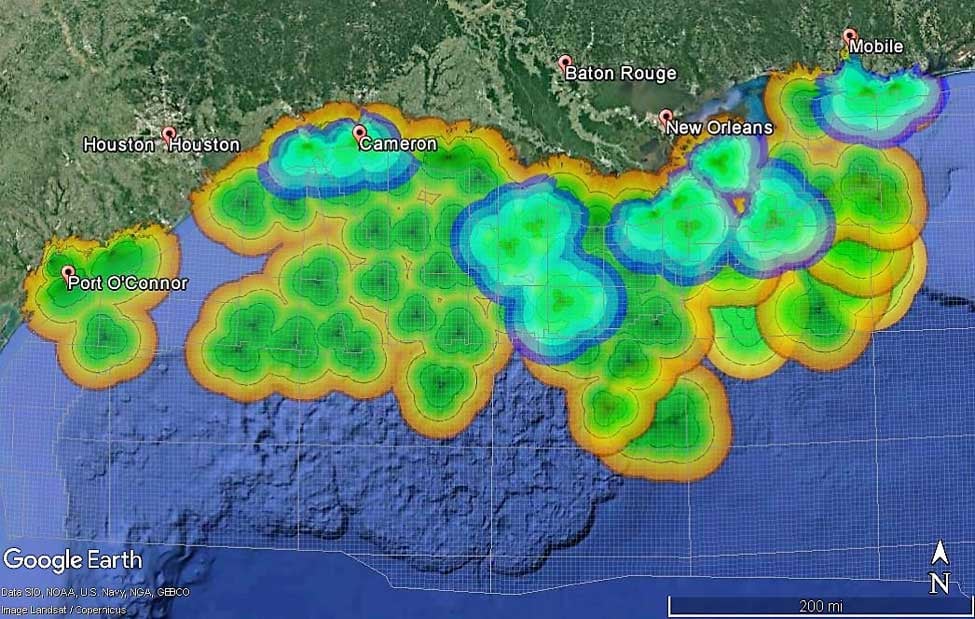 Tampnet is building a cutting edge full scale carrier grade 4G/LTE system in the GoM, with geo-redundant EPC cores as well as distributed core equipment offshore. This enables a communications reliability that has never been seen in the GoM before, new and innovative ways of operating offshore platforms, increasing productivity, safety, environmental response and welfare for the offshore industry. Based on their successful business model and high-end infrastructure from the North Sea, Tampnet will carry the traffic from the base stations to shore on a robust and redundant infrastructure, consisting of carrier grade microwave radio links and a redundant fiber infrastructure in the deepwater region.
The 4G LTE coverage will enable several new ways of working for an industry that has, since the significant drop in oil prices, been focused on using new technology to operate more efficiently and safely. Tampnet's service will enable such solutions and bring operating efficiencies to new areas.
"We are pleased that our aggressive roll-out strategy in the Gulf is working and is well on its way", says Per Helge Svensson, the Tampnet CEO. "Even more exciting is the overall customer interest and the fact that we already have several vessels connected – and many more to come within the next few weeks. The market is clearly ready for this game-changing technology shift in the Gulf, replacing high latency VSAT and mobile-unfriendly, low bandwidth WiMAX systems that are still widely used in the region. 4G/LTE is a well proven and globally adopted technology that our customers are very familiar with on-shore, and evidently welcome in the offshore environment. Unlike anyone else, we are basing our network core infrastructure on fiber and microwave – which nobody else can match", he adds. "We have significant experience in building LTE offshore from the North Sea. We will continue to develop a new technology ecosystem in the Gulf that is future proof, enables very high bandwidths and can be utilized by the industry. We expect rapid growth in the Internet of Things (IoT) and Narrowband LTE spheres in the coming years and will make sure that the coverage is there to support these exciting new technologies. This technology shift will enable the O&G and maritime industry to increase the efficiency and overall safety in the GoM".
Tampnet operates the largest offshore high capacity communication network in the world and serves more than 240 O&G platforms, Floating Production Storage and Offloading units (FPSOs) and exploration rigs in the GoM, as well as on the Danish, Norwegian and the UK continental shelves of the North Sea. In total, Tampnet owns and operates a redundant offshore infrastructure network based on 2,500km of subsea fiber optic cable in the North Sea, complemented with a large number of high-capacity, carrier grade radio links and a high number of 4G base stations.
For more information, please contact:
Trygve Hagevik, Chief Sales Officer
24275 Katy Freeway, Suite 240
Katy, TX 77494
Mobile: 713-444-4463
Email: th@tampnet.com
Per Helge Svensson, Chief Executive Officer
24275 Katy Freeway, Suite 240
Katy, TX 77494
Mobile: 832-361-9650
Email: phs@tampnet.com