Published by: Tampnet
Published on:
November 5, 2019
The interconnection between Denmark and the Netherlands has now been officially launched; in addition to power transmission, the submarine cable also provides a brand new low latency and high capacity connection for data traffic between the Nordics and Western Europe.
Next to the existing 325 km long high-voltage power cablewhich transports green wind power between Endrup in Denmark and Eemshaven in the Netherlands, a new optical fibre cable has been laid.
This cable, which is owned by TenneT TSO and Energinet, has primarily been installed to control the interconnection, with Danish company, Energinet, and Dutch company, Relined Fiber Network, being responsible for leasing out the extra capacity for commercial purposes. The submarine cable benefits from a unique location in comparison to competing connections and is fully diverse from these connections. As a result, a reliable and super-fast connection between Amsterdam and Copenhagen can be achieved via the cable.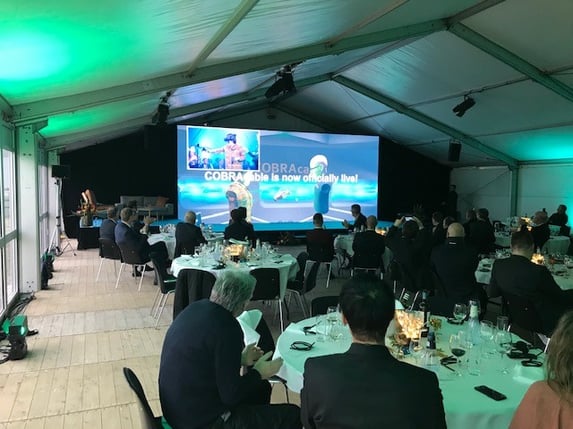 Norwegian infrastructure company Tampnet, which owns and operates the world's largest offshore high capacity communication optical fibre network, is the first company to make use of this new connection.
Tampnet's CEO, Per Helge Svensson, is thrilled to add this new route to Tampnet's comprehensive network:
"The COBRA cable is an important new connection for us that makes our network even more diverse and robust. Consequently our Carrier operations can now provide a new high capacity and low latency route between Stockholm and Amsterdam and Oslo and Amsterdam, serving our customers within Data Centres, media and gaming", Svensson said.
Relined Fiber Network's Managing Director, Jan Willem Tom is very happy with Tampnet as its first customer of the submarine cable:
"Relined's mission is to optimize the use of existing Dark Fiber networks in North West Europe. We want to provide nationwide coverage everywhere and be of great value when it comes to connectivity in the future. With the arrival of the COBRA Fiber Optic Cable, we are extending our footprint to the Nordics. And with Tampnet as our first customer, the first step has now been taken! We are very happy with this partnershipand with the fact that a company like Tampnet has faith in our organisation".
Energinet Associated Activity CEO Peter Jørgensen highlights that the fiber optic cable benefits Danish competitiveness:
"In Denmark we are seeing substantial interest from data centers in the digital super league and the cobra fiber optic cable will probably increase this interest as there is still capacity available. On a national scale, it will benefit us all that Denmark is seen as a central digital HUB for transit within Europe and we believe that our investment in the cable will be justified by leasing out the extra capacity."
For more information please contact:
Per Helge Svensson, Chief Executive Officer, Tampnet
Mobile: +47 905 29 868
Email: phs@tampnet.com