Published by: Tampnet
Published on:
February 18, 2020
On Friday January 31 Tampnet officially launched its newest Point of Presence (PoP) in Copenhagen and added two new important routes from Copenhagen to Amsterdam and London. Tampnet Carrier's Managing Director, Cato Lammenes is thrilled about the new routes. "Tampnet sees this as a major enhancement of our existing European network. This location and the new routes make Copenhagen even more wonderful now," he says with a smile.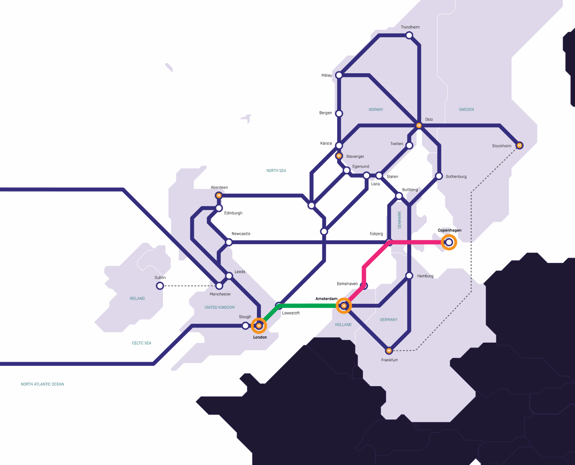 Tampnet's new Copenhagen PoP will be an important hub for low latency connectivity to and from the Nordics and offers an alternative to the traditional European fibre routes, with cities like Hamburg as a typical pinchpoint.
Cobra Cable
The latest Tampnet routes are delivered through the new energy interconnector between Denmark and the Netherlands – The Cobra Cable – which follows a completely unique subsea route and avoids all existing connections between the two countries.
Read more here: www.cobracable.eu
Faster
The new routes not only offer a secure alternative to existing infrastructure, they are also faster, Lammenes explains. Tampnet latency from Copenhagen to Amsterdam will be sub 9 ms (leading latency has been 11,5 ms) and from Copenhagen to London will be 13,8 ms (leading latency has been 16,7 ms). "So we are now opening Copenhagen with a fantastic package for our customers: superb diversity, market leading latency and new routes", Lammenes concludes
For more information please contact:
Cato Lammenes, Managing Director, Tampnet Carrier
Mobile: +47 930 88 839
Email: cl@tampnet.com